It's Christmas Eve Eve and…crap. You've just realised that Great Auntie Lucille is going to be at Christmas dinner with you, and you've not got her a gift! You have two choices – one, plunge into the hell that is shopping on Christmas Eve and hope that Tesco still has a £10 Sanctuary gift box you can stick a bow on and give as a passable gift or you can make a last minute edible Christmas gift.
I thoroughly recommend you do the latter.
A box of mince pies always goes down well. You can use a shop-bought filling and shop-bought pastry to make them super-speedily, but my recipe adds fruit to the filling to make them extra special, too.
If you want something a little less traditional or a little more fancy, I thoroughly recommend checking out the chocolate bark video I made with Lauren and Ashley. Chocolate bark about 10 minutes, is incredibly fun, can be made with kids, and looks very impressive. More impressive than it merits from the effort you put in, to be honest!
If your recipient is more a fan of savoury things, then why not make some Christmas chutney? I really love Nigella's version which is full of fruit and cinnamon, but Mary Berry has a nice one too. Or I'm a big fan of this cranberry and pomegranate sauce I made a few years ago that goes nicely in a Boxing Day sandwich. You can always just make a simple caramelised red onion chutney, though – it goes well with anything, even beyond Christmas.
Doesn't have to be food, though. Flavoured coffees have become a part of our lives now, and making them yourself isn't that difficult. Get yourself some empty bottles and some brown paper labels, then have a go at making these vanilla, raspberry and caramel syrups. Tie a ribbon around them and they'd be perfect. This gingerbread syrup also means you'll be sticking to the festive theme.
And hey, you can always make some biscotti to go with their fancy new coffees?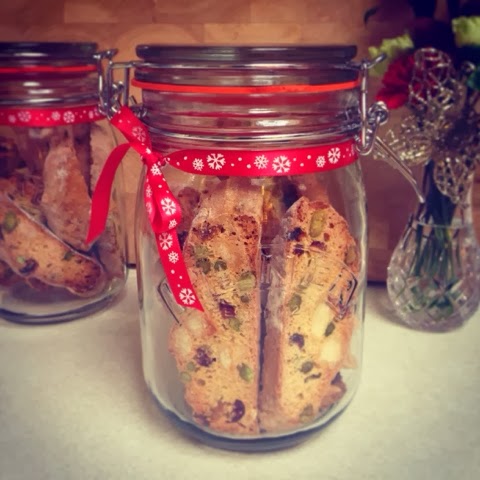 Or, if you want something a little more grown up, flavoured vodka is really easy to make. BBC Good Food have a good raspberry vodka recipe, or you can look at Pippa Middleton's toffee vodka, or I love how beautiful but simple this Skittles vodka recipe is. Imagine giving a box of teeny tiny jars of rainbow vodka to someone for Christmas! And it's exactly the kind of thing that most adults will need to cope with the festive season…
In previous years, I've given my friends truffles as their Christmas presents. My friend Lauren does this all the time, as her amazing Oreo truffles are so good that if the UK Government found out about them they'd make them illegal. If you're more a fan of the traditional gift, Ashley and I have a tutorial about how to make truffles which you might like to follow.
Boxes of biscuits always go down well at Christmas. I've got lots of biscuit recipes, such as these chocolate and walnut crunchies, party rings, and this beautifully crumbly simple shortbread. I am also the queen of chewey, gooey cookies that take minutes to throw together – check out my cookie recipes. You can go for the traditional gingerbread people if you like, too. Or, if you wanted to go for something beautiful and festive, stained glass biscuits are a delight and can be devoured as soon as Christmas is over.
Or, if you're a bit of a seasoned baker, then macarons are an adorable gift for someone. You just have to get a small box, line with floaty tissue paper and nestle the macarons inside. They look very elegant and feel special somehow, even if they're just fancy meringues. I like the look of these lemon ones, although there's a very luxurious chocolate maracon recipe here.
Related posts: